FONTAINES D.C.
Australian Tour April 2020
Fontaines D.C. have postponed their upcoming Australian tour and sadly withdrawn from Laneway Festival. Fontaines D.C. headline shows will now take place in April, with a venue upgrade in Sydney, as well as additional shows in Brisbane and Melbourne.
STATEMENT FROM FONTAINES D.C.
"Due to ongoing recording commitments for our new album, it is with deep regret that we are no longer going to be able to perform at Laneway Festival or our other Australian headline dates across January and February.
Jan 27 – Auckland at Laneway Festival
Jan 31 – Melbourne at Corner Hotel
Feb 1 – Brisbane at Laneway Festival
Feb 2 – Sydney at Laneway Festival
Feb 4 – Brisbane at Laneway Festival
Feb 7 – Adelaide at Laneway Festival
Feb 8 – Melbourne at Laneway Festival
Feb 9 – Fremantle at Laneway Festival
As you know, touring is such a huge part of this band, and we do not take cancellations lightly, so we're also announcing a short run of new headline Australian shows in April 2020.

 
21 April – Metro Theatre, Sydney *venue upgraded*
23 April – The Triffid, Brisbane *new show added*
25 April – Corner Hotel, Melbourne *SOLD OUT*
26 April – 170 Russell, Melbourne *new show added*
All tickets for our headline dates in January and February will be valid for these rescheduled shows and fully refundable if you can no longer attend – if you have purchased tickets, please check your email for information. You can also buy and sell tickets via Twickets, our official resale partner –  http://fontainesdc.twickets.live/
Additional tickets for these new shows will go on sale 10am local time on Thursday January 23.

We apologise to all who were looking forward to seeing us at Laneway and hope to see you at the new dates. As always, we hugely appreciate your support and understanding."


Tickets for the new tour dates are on sale NOW.
– All tickets purchased for the Corner Hotel show in Melbourne on Friday January 31 are now valid for the Corner Hotel show on Saturday April 25. If a refund is required, please contact the point of purchase by Monday February 3.


- All tickets purchased for the Paddington RSL show in Sydney on Tuesday February 4 are now valid for the Metro Theatre show on Tuesday April 21. If a refund is required, please contact the point of purchase by Wednesday February 5.
Fontaines D.C. met as a quintet in Dublin, influenced and driven in equal measure by the rich history of their hometown's counter-culture, their response has been to make concise and immediately authentic indie-punk that has done anything but fall on deaf ears.
Their debut album, Dogrel (released in early 2019), spits, snarls and snaps with the very best of 'em, but it also yearns, like the greatest Irish music must do. Their Mercury Prize-nominated debut earned the band incredibly high praise in the likes of Pitchfork, NPR, New York Times, Rolling Stone and many more. The Guardian even went as far as calling it a 'perfect debut'. 

The band have toured extensively over the last year, selling out their last three UK and EU headline tours, as well as a sold-out US tour.
Tickets on sale now. If their rapid upward trajectory is anything to go by, these tickets will move just as swiftly.
"One of guitar music's most essential new voices" – NME (★★★★★)
"An inspired debut album from a special band" – CLASH (9/10)
"By striving to find romance and poetry in grim times, Fontaines D.C. have made a record to fall in love with" – Q (★★★★)
"Yes, you do need to see them ASAP" – NME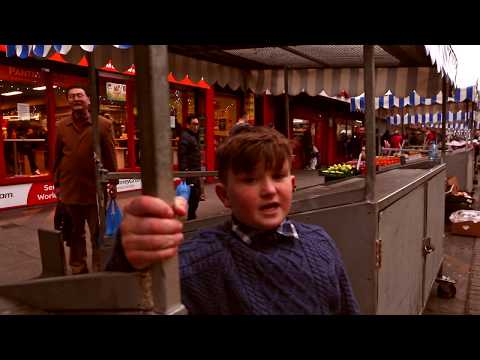 Filed under: Fontaines D.C.